Hello and welcome!
Under normal circumstances we would invite any prospective pupils and their parents into our school; to have the opportunity to meet key staff and to have a look at all the wonderful things that happen here at Buckstones. Unfortunately we are unable to do this in the present climate and so we hope that this page will at least help to give you a feel for our school and what we can offer for your child.
Background
Buckstones Primary School was opened as a one-form entry primary school in 1976 and was originally designed as an open plan school. In recent years the school has had extensive internal alterations and extensions which have resulted in a more traditional classroom layout for the majority of the school. The school has a purpose built I.T. suite, large hall/dining area which also serves as a gymnasium and a centre for extra-curricular activities.
The Outdoor Areas
The school has large grounds, including three hard surface play areas, a grass field, nature paths and a nature area and pond. We also have covered areas in the Infant playground and the Junior playground. The children have a trim trail, seating areas, fast play area, a stage, football walls and nets, and basketball nets to play with.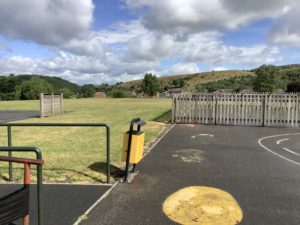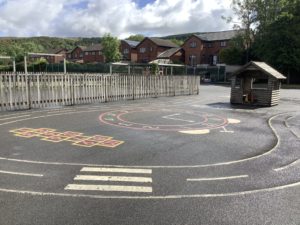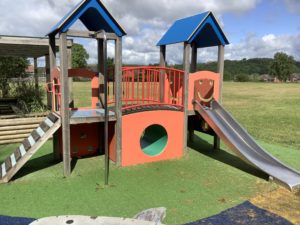 Reception
Children start their school journey with us in the Reception class. We have a lovely big open-plan Reception classroom with lots of different areas and activities to choose from. We also have our own outdoor area joined to our classroom, which the children can access freely throughout independent learning times.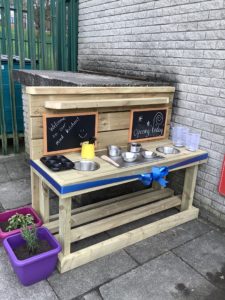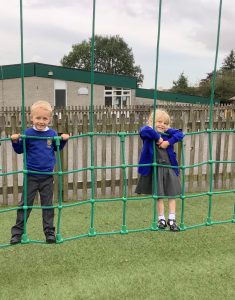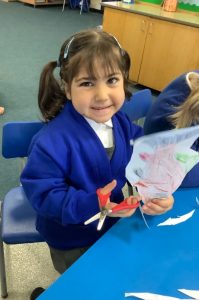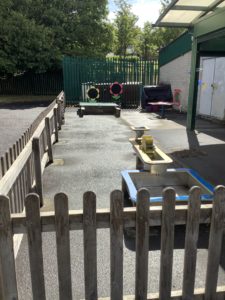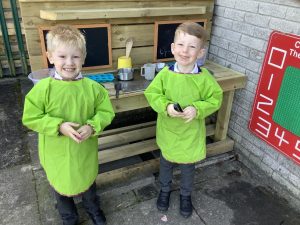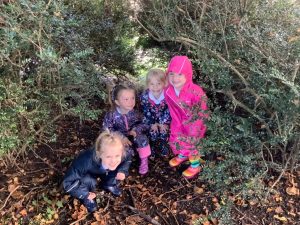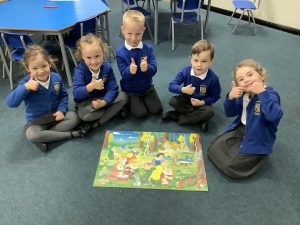 In Reception the children have a balance of structured learning sessions and independent learning time. Watch an exert from a typical phonics session with our Reception teacher, Mrs. Pearson, by clicking on the video link below:
In addition to the regular learning opportunities and experiences, the children in Reception also take part in weekly Forest School sessions, where they build confidence and independence skills and a respect for nature and for each other.
Lunch Times
Nutritious, hot meals are cooked on-site and served to the children in our school hall (free to all children in Reception and key stage 1).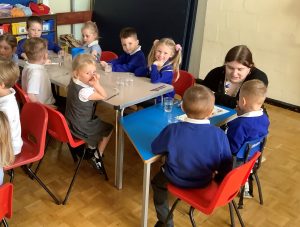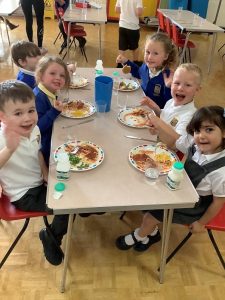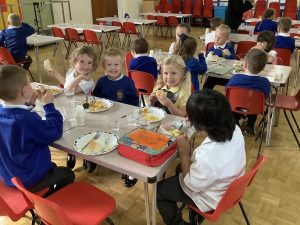 For further information click on the links below:
Admissions
Children are admitted in the September of the school year in which their fifth birthday falls. Parents need to complete application forms on line and send them to the Local Authority to comply with the co-ordinated admissions arrangements. A pack is sent out by the Local Authority to all parents of children coming up to statutory school age. Reception class places are allocated by the Local Authority and not the school. Our class sizes are a maximum of 30 pupils in each of the seven classes.
During the term preceding school entry, children and their parents are invited to visit the school; for story time, play afternoon, and an introductory meeting.
If you have any questions please contact the school office and a member of staff will get back to you as soon as possible:                            leanne.marsden@buckstones.oldham.sch.uk
Thank you 🌈