Hello and welcome to all our new children and parents. We can't wait to see you all in September!

Please expect a message towards the end of the Summer holidays to activate your Tapestry account. That way we'll be able to update you with photographs and updates of your child's learning journey as soon as they start with us in September. Until then, please may we remind you of the key information regarding the opening of the school year for your child:
Week 1 (beginning Monday 5th September):
Group 1: Mornings only: 9am -11.30am
Group 2: Afternoons only: 1.15pm-3.30pm
Week 2 (beginning Monday 12th September):
Group 2: Mornings only: 9am -11.30am
Group 1: Afternoons only: 1.15pm-3.30pm
During week 1 and 2, whilst the children are attending on a part-time basis, they will enter and exit through the main school entrance,
at the front of school.
Week 3 (beginning Monday 13th September):
All children in full-time, including lunches. 8.50am-3.15pm
 From week 3, when the children are in full-time, they will use our own Reception class entrance, around the side of school,
through the infant playground.
Frequently Asked Questions: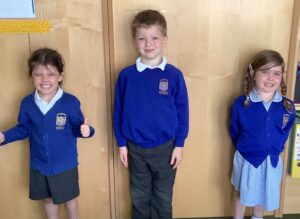 *Does the uniform have to have the official school badge on it?
No. School uniform can either have the school badge on it or it can be plain.
(Royal blue cardigan/jumper, yellow/white polo shirt, grey trousers/skirt/dress, blue/yellow checked summer dress (optional), grey socks/tights, black velcro shoes.
* Do the children need an indoor and an outdoor P.E. kit?
Yes please. Both are kept in the same pump bag on their peg in school and we will send them home at the end of every half term to be washed.
*Is there a set uniform/colour for the outdoor P.E. kit?
No. The outdoor P.E. kit can be any colour, They  just need to have a tracksuit top/hoody, a pair of tracksuit/jogging bottoms and a pair of velcro trainers. Please make sure everything is labelled with their name! 🙂
*What do the children need to bring with them each day?
Every day the children just need to bring with them their book bag and a water bottle (containing WATER ONLY please).
Please make sure it is clearly labelled with the child's name.
*We will NOT be doing P.E. or forest school during the first two weeks in September as this will purely be a settling in period. Please just make sure that P.E. kits and forest school kits are sent in prior to the children being in school full-time (week 3). Thank you 🙂
For further information click on the links below:
Here is our usual weekly timetable in Reception:
Monday
English / Phonics
Break
Maths
Lunch
Topic
Story / music
Tuesday
English / Phonics
Maths
Computing
Story / music
Wednesday
English / Phonics
Maths
Dance
Story / music
Thursday
English / Phonics
Maths
Topic
Story / music
Friday
P.E.
English / Phonics
Forest Fun
Topic
Assembly

Please remember to check your Tapestry account regularly to be kept up to date with your child's individual learning journey.
Reception Baseline Assessment information for parents: Baseline Assessment Information For Parents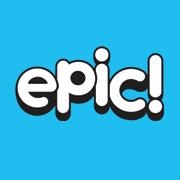 Buckstones have signed up to an online reading scheme, which is currently available for families to use at home. Please see details here: Epic! Reading Scheme Info
To access any of the home learning activities from over the last year, please click on the links below: 
Home Learning Week 1 (week beginning 4.1.21)
Home Learning Week 2 (week beginning 11.1.21)
Home Learning Week 3 (week beginning 18.1.21)
Home Learning Week 4 (week beginning 25.1.21)
Home Learning Week 5 (week beginning 1.2.21)
Home Learning Week 6 (week beginning 8.2.21)
Home Learning Week 7 (week beginning 22.2.21)
Home Learning Week 8 ( week beginning 1.3.21)